Camın Şiirsel Doğasında:
Suna K
15 senedir sanat, kültür ve teknoloji alanlarında üretimler yapan ve bugün Amerika Minneapolis'teki Walker Arts Center kurumunun iletişim çalışmalarını yürüten Aslı Altay, eğitimini grafik tasarım üzerine yapmış. Cam ile ilişkisi, Can Altay ile birlikte cam sanatçısı Mert Üngör'ün misafir sanatçı programıyla başlamış.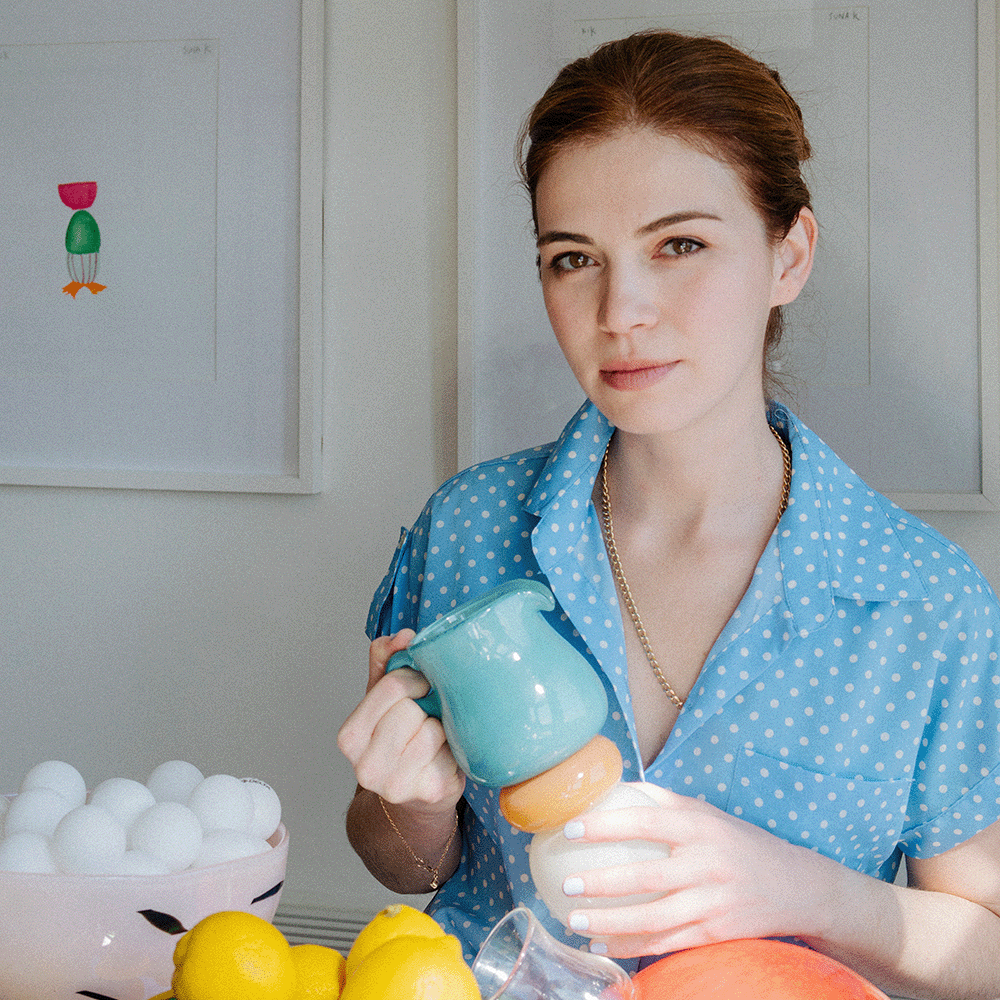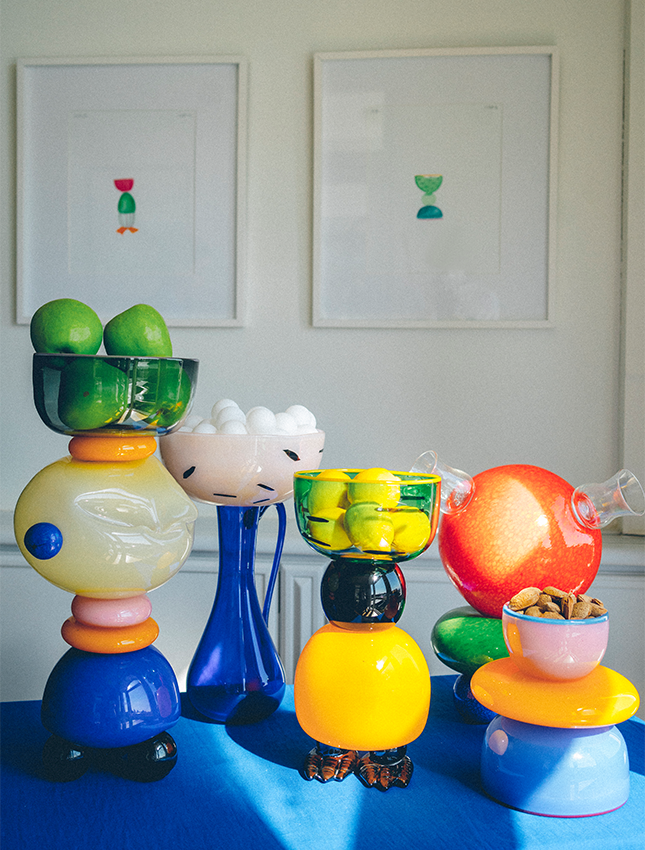 "At that time, Mert was inviting artists whose main medium of work was not glass and was aiming to be able to rethink the material together with such artists. The time we have spent at the glass furnace has led exactly to that conclusion. Mert's talent with glass and our interest in form and colors have culminated in a very productive week. At the end of the week, we knew that we would love to go on working with glass and share this with other people."
Characters from the Suna K family have been shaped differently from another with hand workmanship, allowing fortuitousness, in compliance with the changeable nature of the glass. They all harbor magical powers beneath their humble beauty. With the creator of the brand, Aslı Altay, we have discussed the story of these designs, inspired by the 80s design school Memphis which rebels against the ordinary.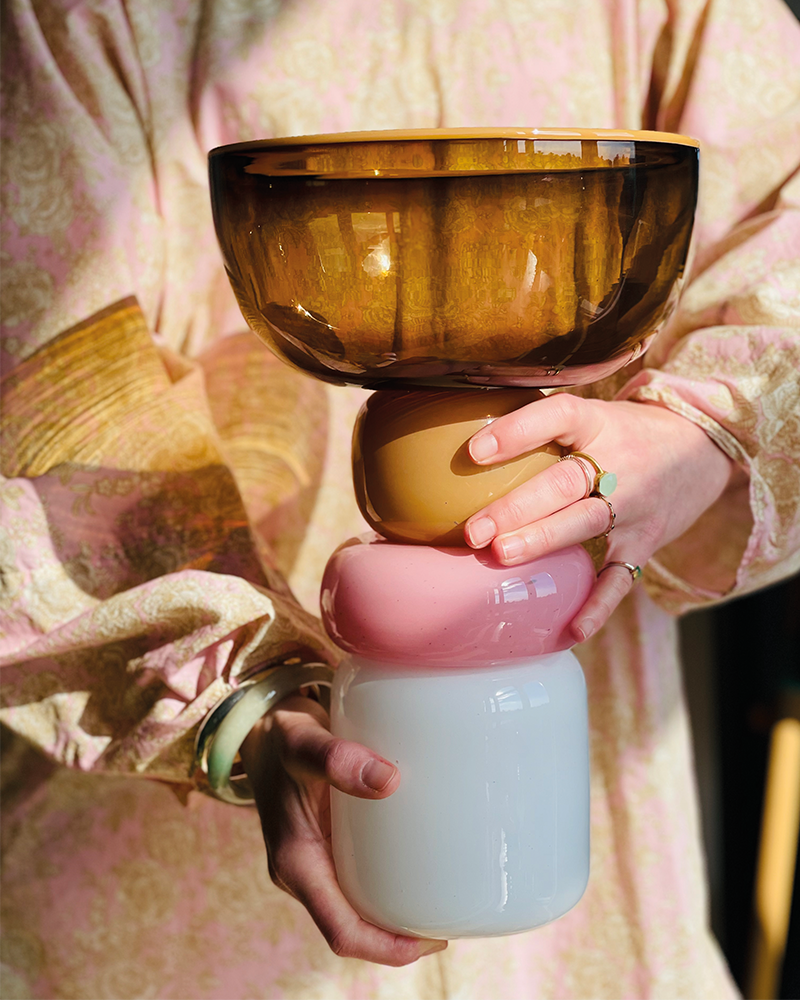 What creates the DNA of the Suna K brand?
Suna K, has an understanding of form which is a little contrary to the fluid and persistent nature of glass . It consists of circular parts that are stacked successively with each design ending in a pot form.  Apart from that we love handling the material itself, the concept of stocking, the feeling of permeability, light play and interpreting archaic glass techniques in playful new ways.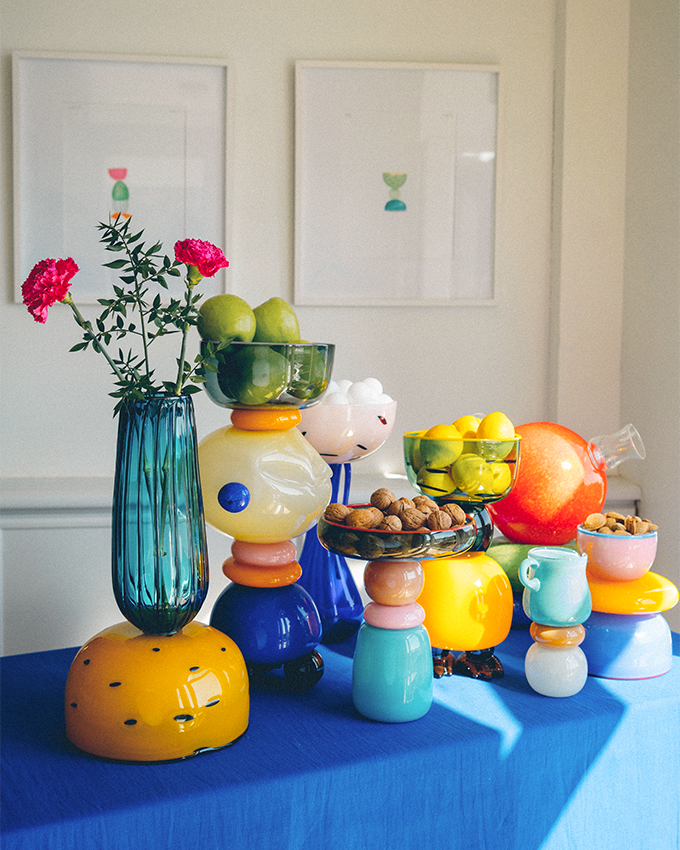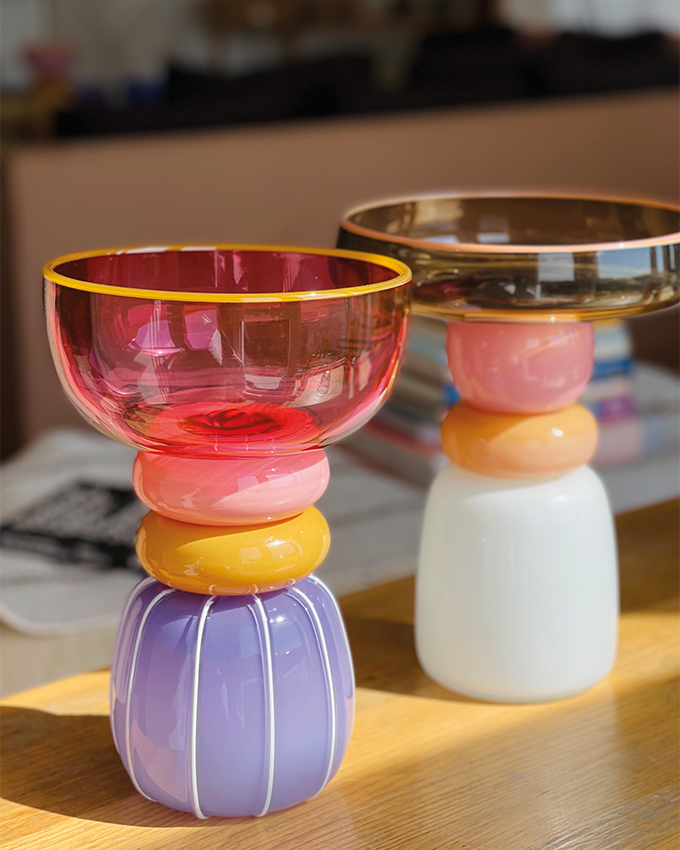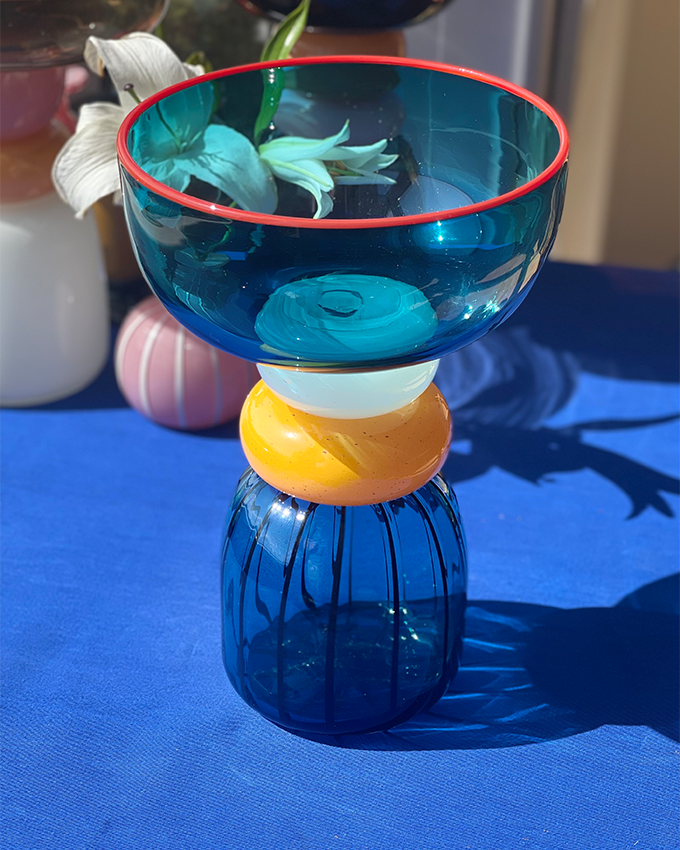 How does the mystically and the spirituality that the word "sunak" (meaning, "altar" in English) reflect in your designs? 
The pots above each piece make reference to the concept of altar in form regardless of whether you would prefer to put anything in them or not. We believe in the energy that resonates from these objects that we live with, Suna K characters are likewise objects that constantly change during the day with the change of natural light and also change the environment they are in. I can claim that there is a certain magical power about them. Beauty is a form of magic. Consequently, we are producing objects that will have a special place in the environment they are in and that need to be taken care of diligently. Thus, Suna K establishes a direct connection with the concept of the altar
What does it feel like to work with glass materials for you?
Glass is a hard material to work with which constantly rotates in high temperatures and cracks unless it assumes its shape within seconds. An object designed on paper can take on a completely different form once we place the glass onto the pipe. We let this happen, since we love coincidences.
Can you tell us a bit more about the construction process, the story and the overall functionality of your designs which are created within the triangle of handcraft, imagination and practicality?
Suna K's designs begin on paper. We dream of series and kinship. Every piece is unique, it would almost be impossible to replicate it even if you have tried, as we do not use molds. All of the characters are produced through glass blowing and hand craft. Our productions revolve around various series. We create different series in forms of horizontal bowls, which we call "suna" -an endemic bird resembling a duck- or "kemna". We produce characters that share a certain kinship. For example, the "palindrome" series is inspired by words which remain the same when backwards. Therefore, our palindrome characters can be utilized upside down as well. These pieces court with symmetry. Functionality is another issue, we can say that the bowl forms are functional in various ways, but in fact, their most important function is to transform the environment that they are in.
People now want to make designs that have a story behind them a part of their homes. How do you establish the bond between yourself and your designs? How do you envision the user to position your designs in the real world?
To tell you the truth, at first it was difficult to give these pieces away. We even called the process "adoption". As you said, they are all unique, they are all members of the family. They have stories, they have a sense of humor. On the other hand, there is the reality of the world that we live in, cardboard boxes that show up at your door the next day with a click of a button, the houses that all look alike, the unimaginative, dull places that do not encourage you to dream… Suna K is produced in small numbers and our products may not always be "accessible" due to limited production possibilities and due to glass being an expensive material. We do not aim for growth in this sense. These are more like collectibles. They are more appealing to people who have this kind of intention.
Glass has a rooted history that has its roots in Mesopotamia of about 3600 years ago which have been reshaped with the influence of Ancient Egypt or Rome.  Which references regarding the history of glass are included within your designs?
Even though glass has progressed industrially, it is still produced with the same methods and principles in respect of craftsmanship and atelier production. There is an extraordinary experience that comes naturally with this ancient wisdom and this struggle with fire while focusing on the movement of glass.
Can we say that the ceramic totem sculptures that Italian designer Ettore Sottsass started to make in 1962 as part of the Memphis movement was an inspiration for Suna K's designs? Is there a conceptualization of "totem" in the philosophy of your designs where different colors and forms come together on top of each other?
Sottsass has always been significant for us. We were even asking ourselves what he would have created if he were to visit Anatolia. On the other hand, Suna K herself has an identity, the direction and form she takes over time will also be her own. The totem and altar function somewhat closely, for us it was important that each piece consisted of stacked units. Each stack brings its own contradictions and harmony and contributes to the energy that I have previously mentioned.